The Company has proactively embraced social responsibility to create a positive impact in the communities in which it works and operates. Along with sustained economic performance, Triveni believes in the importance of social stewardship. The Company is committed to creating an environment that contributes to the well-being of communities and the conservation of nature. Towards this objective, the Company contributes to inclusive growth by empowering communities and accelerating development through interventions in water and sustainable environment, health, education and technology development.
CSR Objectives and Vision
The Company wishes to be perceived as a 'Company with Conscience', and to actively and continually contribute to the social and economic development of the communities for the benefit of the deprived, under-privileged and differently abled persons. Its approach is based on merit only, without any regard to religion, caste or creed.
CSR Focus Areas
Though there are numerous addressable areas where there are cultural prejudices, as well as lack of equity, social justice, awareness and affordability for basic rights in the society, the Company has identified the following areas for the well-being of people:
Healthcare
Education and Women Empowerment
Environment Sustainability
Technology & Innovation
Highlights of the CSR Initiatives undertaken during FY 2021: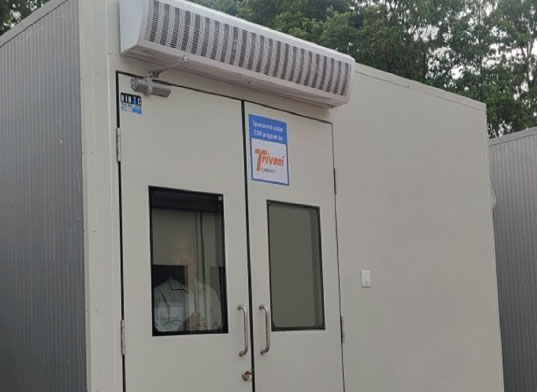 01Healthcare
Prevention of Spread of Coronavirus
The Novel Coronavirus assault on the very existence of the human race has been declared a global pandemic, the like of which has not been experienced in the last four decades, the previous being the HIV rampage which haunts human beings even today, although it was not as deadly, infectious and widespread as this present pandemic. Therefore, as a part of its CSR plan, and in continuation of its annual thrust in the area of Corporate Social Responsibility, the Company identified a Project focussed on preventing the spread of Coronavirus.
Under this Project, the Company provided life-saving equipment like ventilators to a hospital, in order to upgrade infrastructure and enable treatment of a larger number of patients needing life support systems. This has helped immensely in the effort to save precious lives of Corona patients from the clutches of this deadly disease during these extremely difficult times. In addition, a lot of protective gear and kits were provided to the Doctors and Hospital Staff to protect themselves from getting infected through any patient, during their selfless war against this raging pandemic.
The availability of hospital beds in Bengaluru had been a big challenge during the present surge of Coronavirus cases, as the hospital infrastructure was inadequate to tackle this sudden flood of infected patients for treatment. To ease this problem, the Company provided Modular ICU Facilities to a Government hospital in Bengaluru. This facility helped the hospital to significantly increase the intake of patients.
02Education and Women Empowerment
India-Israel Master-Classes Series on Emerging Technologies
As part of its Education and Women Empowerment focus, the Company provided financial support to a non-profit organisation, that focusses on value-based leadership development and open dialogue on important issues facing the Indian society, to help its transformation. This Centre connected Indian students from universities and colleges with experts from Israeli academic institutions, companies and entrepreneurs through webinars, to understand technologies to provide students the opportunity to understand emerging trends in technology, global standards, practices and augment capacity building in the field of emerging technologies. These classes were attended by students of 31 universities and colleges across India.
Other Educational Initiatives
As part of its sponsorship on education and training programmes for differently-abled students, the Company provided financial support to Institution for conducting various therapies such as speech therapy, occupational therapy, visual therapy, physiotherapy, orthopaedics treatment, and neurologist treatment to bring a qualitative change in the lives of differently-abled student. It also provided financial support to the Government Model Primary Schools to help them run pre-nursery schools for under-privileged children in Peenya, located near its factory. A total of more than 500 students benefited from these initiatives.
03Environment Sustainability
Water Tool Applications for Sustainable Solutions, Enhanced Capacities, and Renewal (WASSER)
Environmental Sustainability has become one of the biggest challenges for sustaining life on this planet. Amongst various other factors, water continues to grow as a priority for India and Indian business in a scenario where there is an increased variability in water availability, combined with deteriorating resource quality. To facilitate appropriate decision-making among diverse stakeholders on water, it is important to integrate data, tools and water networks into a comprehensive, simple-to-use system that can readily be used by Industry, Government and diverse stakeholders, such as farmers, utilities and community at large. It becomes necessary, therefore, to broaden awareness and disseminate knowledge among various stakeholders on an effective tool to enhance and improve water security of an area.
It is in this context that Project WASSER was undertaken, in association with an implementation agency, with an intent to develop state-of-the-art tools and world-class techniques meeting international standards, to raise awareness, build capacities of diverse stakeholders on usage of innovative methods, and enable appropriate decision-making for water resource planning in India.
04Technology and Innovation
Technological advancement and innovation are the catalysts in any growing economy. With this target in its spectrum of social responsibility, the Company encourages and supports technological developments and innovation undertaken by various reputed technological institutes of national importance. As part of a long-term project, the Company continued, during the year, to provide financial support to the Indian Institute of Science, Bangalore. The Company has provided support to the Institute in the extension of Energy Research Laboratory facilities which are involved in carrying out research programs in the new area of Power conversion.
The Company wishes to be perceived as a 'Company with Conscience', and to actively and continually contribute to the social and economic development of the communities for the benefit of the deprived, under-privileged and differently-abled persons.