Amid the COVID pandemic that emerged in late FY 20, we moved with exceptional speed and agility to align our business strategy to the new normal, while sustaining our uncompromising focus on ensuring customer delight and satisfaction. The cultural and digital transformation we had unleashed in the last quarter of FY 20 was scaled even further to match the fast-paced changes in the business environment.
Our strategic approach during this unprecedented crisis was three-pronged: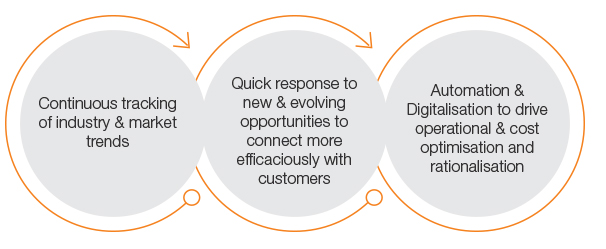 In line with this strategic approach:
01
Our internal teams regularly tracked external trends to identify gaps, analyse their impact on industry/business and leverage our expertise and experience to fill the same with agility.
02
We used this information to harness the new and evolving opportunities across sectors and geographies. We found new ways of connecting with our customers and providing them with niche products and solutions designed for their specific & specialised needs
03
We augmented our organisation-wide efforts to implement greater automation and digitalisation, thus boosting productivity through operational and cost optimisation.
Adapting to new customer connect tools
As travel was strictly curtailed, finding innovative ways of connecting with the customers became an imperative, rather than a choice. Sustained and close customer engagement was ensured in these difficult times through various initiatives:
Accelerating the digital transformation
Looking at technology as a disruptor for our own market, we accelerated the digital transformation of key business activities amid the changing business environment. While adding new customer and employee touchpoints, we accelerated the process of operational and product transformation, to help align the Company with the transforming environment.
As part of the new normal, we implemented:
01
Adoption of various tools, such as augmented reality and virtual reality, thus lending us greater agility, as well as ability to boost efficiency and productivity.
02
Deployment of remote monitoring, along with data predictability and analytics, to support customers at every step of their problem resolution.
03
Greater automation on the operating floor, to reduce manpower costs, boost productivity, enhance efficiencies, lower the turnaround time and minimise wastage.